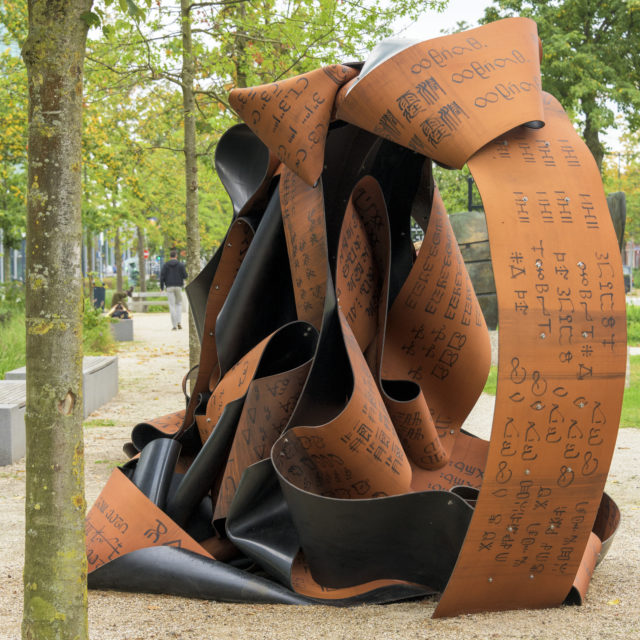 Commissioned Artwork Public Space
Unveiled in september 2021: The sculpture 'Script of the City' commissioned by Gemeente Utrecht. Location: in front of the Central Station of Utrecht: Beeldenpark Croeselaan.
The work Script of the City is a 3 x 3 x 5 meter knot made of reclaimed conveyerbelt on which symbols of all scipts of the world are painted. In relation to the artistic research I collaborated with Bijzondere Collecties Universiteitsbibliotheek Utrecht. Historical manuscripts that have a special relationship to the city of Utrecht are represented in this artwork.
The selectioncommittee for this commission consists of: Frank Koolen (HKU), Laurie Cluitmans (Centraal Museum), Carlijn Diesfeldt (Adviescommissie Beeldende Kunst gem. Utrecht) en Projectleader Cultural Affairs Carolien de Boer.
Script of the City is kindly supported by Het Boellaard Fonds, Stichting Stokroos, het Prins Bernhard Cultuurfonds, Het Mondriaan Fonds en Stichting Creatief Initiatief.
Photography by Dirk Verwoerd